Hawaii Pro Exhaust
&

Wash

Exhaust Vent & Hood Cleaning
We provide the best kitchen hood cleaning in Honolulu for all areas, including vents on the rooftop. Our commercial kitchen and restaurant exhaust hood cleaning service protects and covers your exhaust fans, canopy hoods, filters, ducts, and rooftop vents. Every aspect of our work is up to NFPA-96 standards, and your complete satisfaction is assured. We'll work around your schedule and give free estimates. If you want the most thorough hood cleaning Oahu has to offer, call us today.
Clean Kitchen Hoods are Safer
Before your commercial kitchen exhaust system is cleaned, there is a risk of a fire. If things flare on the stove and flames travel into a greasy exhaust system above, the build-up provides fuel to fires. Our trained technicians keep your hood clean and your system free from dangerous grease build-up. After we clean your restaurant kitchen exhaust hood, the ducts, fans, and mechanical systems are pristinely clean, and the chance of fire is minimized. Our hood cleaning meets all requirements and standards to keep your system in compliance. We're experienced and thorough in everything we do.
Experience Real Results With Our Professional Hood Cleaning Team
See for yourself how the experts at Hawaii Exhaust Pro and Wash complete each job with an extreme level of attention to detail.  As a result, our professional team guarantees that our customers will be satisfied with the quality of the task being performed.  To schedule a cleaning of your kitchen exhaust hood contact us today!
Restaurant Kitchen Exhaust Before Being Professionally Cleaned
Restaurant Kitchen Exhaust After Being Cleaned By Our Expert Team
We're Kitchen Exhaust Hood Cleaning Experts for Honolulu and Oahu
Not many Honolulu kitchen hood cleaning services can match the caliber of our work. Everything we do meets or exceeds NFPA-96 and local fire codes. We guarantee you'll pass inspection because our certified technicians clean the complete system, including areas you can't see easily. Our kitchen hood and duct cleaning meet insurance standards and includes pictures before & after, documenting the work performed. We're on-call when you need us for free estimates to clean your system or help you pass an inspection. Our scope of services includes:
Degreasing exhaust hoods and fans
A complete clean for all interior parts and the vented canopy with degreasers and power washing
Cleaning and inspecting the baffle filters – we'll replace them when needed
Polishing all visible interior surfaces
Working neatly and carefully; we clean up and remove all debris and grease
Waste disposal, including grease
We also clean the fire suppression system
Outstanding Technicians
Our certified technicians have many years of experience inspecting and cleaning commercial kitchen hoods and vent systems. We are highly qualified to perform the work you need, and we meet all industry standards and local codes.
Hawaii Pro Exhaust Guarantee
We'll make sure you pass inspections. Our people work according to NFPA-95 and local ordinance standards. Our guarantee is one of the best in the business, and we've cleaned every type of commercial kitchen vent system, large and small. We also clean kitchen hood fire suppression systems.
Flexibility in Scheduling
Your kitchen is busy, and we'll work around your schedule day or night. When you need service, we'll be there, prepared to work, and ensure your system is safe and working efficiently. Your kitchen will be ready to use the minute we're finished.
Insured and Bonded
Hawaii Pro Exhaust and Wash is a bonded and fully insured commercial kitchen hood cleaning service in Honolulu and Oahu. We clean restaurant hoods and power wash to the highest standards. Our expert technicians are well-trained and experienced.
Photo Authentication
We document every restaurant hood, fire suppression system, and kitchen exhaust system we clean with before & after photographs, including the interior sections, you can't easily see. Our insurance reports are thoroughly prepared, and our goal is to help minimize your liability.
Preventative Maintenance
When we clean, we have an eye out for any repairs your system needs to prevent breakdown and future headaches. Our people also recommend installing time (and money) saving hinges and service doors to make future cleanings simpler.
Our Certified Kitchen Hood Cleaning Technique
&

Process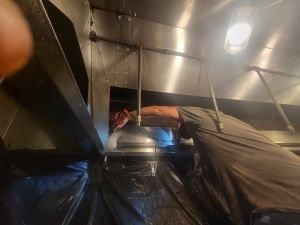 Our Hawaii Pro Exhaust and Wash team provides kitchen exhaust hood cleaning services in Honolulu, unlike any other. We work to meet local fire and NFPA-96 standards in Oahu. We clean more thoroughly than our competitors and guarantee you'll pass inspection.
We deep clean, and our technicians go inside to areas you cannot see so that the job is thorough — and we document our work with clear before-&-after photographs if your canopy hood, fire suppression system, and exhaust system need to be cleaned urgently. We're available day and night.
Prepare for Service | Take Out Baffle Filters | Wrap All Hoods
1. Prep the Kitchen Area
Safety comes first, and a kitchen clean begins with shutting off the gas, including pilot lights. Next, tarps go down to cover and protect your appliances from splatters of grease, cleaning agents, and water. The baffle filters come out to expose the interior ductwork – the baffles will be cleaned later with degreasers and power washing. We cover the canopies with plastic sheets to funnel the used cleaning solution into containers for disposal.
Scrub, Rinse, Repeat | Clean the Ducts | Wash Roof Area
2. Begin with the Fans
We start at the top, working by hand, and scrape away all grease and debris from the ducts. Next, we spray the complete fan system with a de-greaser and rinse it with a heated power washer until the surfaces are spotless. An expert inspection checks your exhaust fan operation, and we'll replace the belt if needed. We pressure wash the kitchen area around the exhaust hood and clean up thoroughly before leaving.
3. End with the Hoods
Working our way down from the roof, we clean the kitchen hoods with a similar technique. Hand scraping removes stuck-on grease followed by a spray of de-greaser and hot power washing. After the complete vent system is pristine, we reinstall the baffle filters and dry the canopy before polishing it. Our technicians finish the job by polishing the exhaust vent hood inside and out, leaving it with a like-new appearance.
4. Clean-Up and Inspection
As soon as the system is kitchen exhaust system and fire suppression system is clean, the team leader inspects it thoroughly to assure every section is pristine and nothing was overlooked. We capture and dispose of all grease and take it with us if needed. You'll receive a certification decal to display verifying your insurance coverage, local health inspectors, and your fire inspector. It will also include a reminder about the next date when you're required to schedule service.
We Recommend Getting your Hood Cleaned at Frequent Intervals
The NFPA (National Fire Protection Association) maintains standards for ventilation control & fire protection for commercial restaurant cooking operations, including recommendations for the frequency of maintenance (cleaning) of kitchen ventilation systems and the cleaning of kitchen hood fire suppression systems. They are to help keep kitchens safe from fires.
| Type of Volume of Cooking | Service/Cleaning Frequency |
| --- | --- |
| Solid fuel used for cooking | Every Month |
| Kitchens that cook High Volumes of food | Every Quarter Year |
| Kitchens that cook Average Volume Operations | Semi-annually |
| Low Volume Kitchen (churches, senior centers) | Annually |
FAQs About Our Exhaust Hood Cleaning Services
Why Does My System Need Cleaning?
Because restaurant and institutional cooking involves high temperatures and throws off grease, there is a risk of fire in kitchen areas, especially exhaust systems. One of the most effective (and necessary) ways to reduce fire risk is to clean and degrease the canopy hoods, fire suppression systems and kitchen exhaust systems following the NFPA recommended maintenance schedule.
A clean restaurant exhaust hood is safer and more pleasant for your staff, reduces your liability exposure, and protects the substantial investment you've made in your kitchen ventilation system.
What is Required to Meet Fire Safety Codes?
The rules covering preventative maintenance and safe operating procedures for kitchen vent hoods come primarily from the NFPA (National Fire Prevention Association) through its well-known NFPA-96 Standards and Codes. Their goal is to reduce the fire risk in commercial kitchens of all types. The best hood cleaning contractors follow NFPA Codes.
Although restaurants are the primary operators of commercial kitchens, they exist in many settings, including institutional ones like schools, retirement homes, and many others.
How Much Money Does Hood & Vent Cleaning Cost?
Exhaust hood cleaning prices in Honolulu and elsewhere depend on the size and configuration of the kitchen venting system. At Hawaii Pro Exhaust and Wash, we advise our clients on how the addition of hinge kits and service doors can make cleaning faster and lower costs on future visits. Because we understand the price of hood cleaning in Oahu is a concern for our clients, we keep prices low.
The best way to get a sense of cleaning prices for your unique kitchen exhaust system is to ask for estimates. Remember to check a contractor's reviews and compare their scope of services against others – a price that's too low might mean subpar service. It's a detail-oriented job that needs to be done thoroughly.
How Much Time Does Cleaning Take?
Cleaning times vary by the size of a cooking ventilation system and its configuration. Well-designed systems with service doors and access panels are quicker and easier to clean. We often advise clients on adding hinge kits and access panels, which we can do, to make future visits less time-consuming.
A ballpark estimate of the time required to clean a small kitchen hood in a single-level structure is about three hours. Extra greasy systems or those that are larger or more difficult to access will increase the required time. Sometimes it takes a full day (or sometimes more) to fully clean an extensive system.
Do Your Crews Work After-Hours?
We're bonded and insured at Hawaii Pro Exhaust and Wash, so we're qualified to work on your premises after hours and lock up when we're finished. Everyone on our team is background checked and drug tested. We'll follow your lock-up and alarm protocols to safeguard the security of your premises.
When you arrive the next day, your kitchen will be clean and pristine, and your canopy hood and exhaust system cleaned according to the highest standards.
Access Panel Installation
Well placed and properly installed access panels are essential for hood cleaning best practices – they make future cleanings less complicated to save you money. We'll advise you on optimal placement for access panels and handle the installation if you'd like us to take care of it.
Baffle Filter Replacement
Baffle filters are your first line of defense against stovetop flames becomes exhaust system fires. It's why we clean your filters with safe yet powerful degreasers, and pressure wash them with hot water. We'll also keep an eye on your filters and replace them when needed.
Exhaust Fan Belt Replacement
Your system's effectiveness depends on the exhaust fan to pull air and grease away from kitchen areas and through the hood. A worn or slipping belt slows airflow and diminishes your system's power. We check and replace belts as need during cleaning to assure peak operation from your exhaust fans.
Hinge Kit Installations
Hinges in the right place protect your fan and make it easier to clean. Removing a fan that lacks hinges is a time-consuming operation that can cause damage over time. It's always best to have hinges to make cleaning more accessible and protect your equipment and roof; up-blast fans need hinges.
Rooftop Grease Containment
Containment systems protect your roof, and if you don't have one already, it's something to consider adding. Up-blast and industrial set fans aren't enough to protect your roof and reduce fire risk. We sell and service grease containment systems that are the right size for your kitchen.
We have Honolulu's best power washing service. In the real estate industry, a great-looking building exterior is rated for its curb appeal. When customers form an opinion about your business, they consider external cleanliness, and power washing makes your premises look new.
At Hawaii Pro Exhaust and Wash, we're all about outstanding quality, low, competitive rates, and working to suit your schedule. Contact us for a free estimate and see for yourself what it's like to work with the most effective vent hood cleaning service in Oahu.