Are you looking for a professional-grade kitchen cleaning service for your kitchen? Hawaii Pro Exhaust & Wash provides reliable full-service pressure washing to make sure that your restaurant looks its best. Our experienced team is dedicated to providing quality results, ensuring your satisfaction every time. With our powerful equipment and anti-microbial cleaning solutions, we can deliver the highest standards of excellence for your Oahu pressure washing needs. We guarantee to leave you with a beautiful and sanitized exterior that will make your property shine.
Pressure Washing for Commercial Kitchens & Restaurants
Honolulu restaurant and commercial kitchen owners can benefit greatly from having their establishment pressure washed. With the high volume of traffic they receive, dirt, grease, and grime can easily build up on surfaces. Using a pressure washer is the most efficient and effective way to deep clean these areas, eliminating bacteria and other unhealthy contaminants that could pose a health risk. Our experienced team knows how to safely and effectively remove all the dirt, grease, and grime without damaging surfaces. Our high-powered systems are capable of delivering professional-grade cleaning results for any food establishment. Hawaii Pro Exhaust & Wash is your number-one choice for pressure washing services in Honolulu and the surrounding area. In addition, we are also the leading provider of Oahu hood cleaning for restaurant kitchens, which is vital for maintaining clean air quality and fire prevention.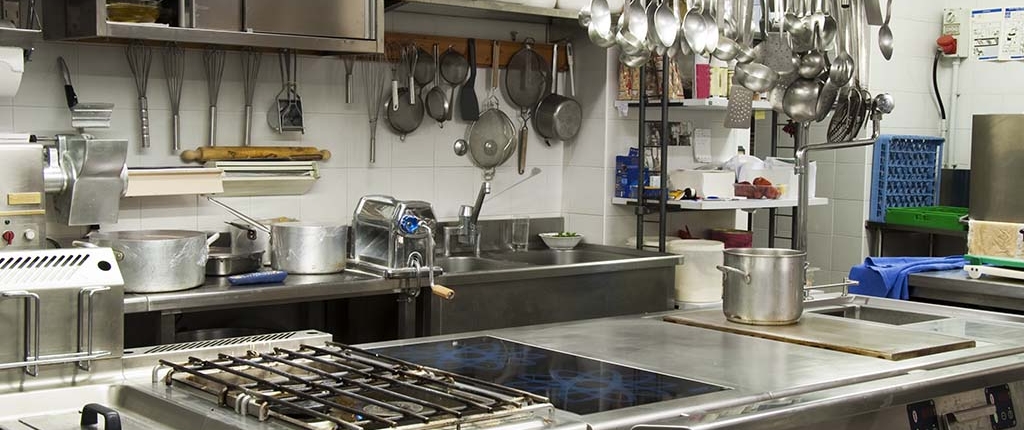 Anti-microbial cleaning
Using anti-microbial kitchen cleaning solutions is essential for maintaining a clean and sanitary environment, especially in food establishments. Our Oahu pressure washing services utilize the latest products that are specifically designed to kill bacteria and other harmful microorganisms. These powerful solutions are efficient at eliminating germs, viruses, dust mites, and odors while also providing lasting protection against future microbial growth. With our professional-grade cleaning methods, your property will be free of bacteria and other harmful contaminants, leaving you with a safe and sanitary environment. When it comes to anti-microbial benefits, Hawaii Pro Exhaust & Wash is the name you can trust for quality pressure washing services.
Kitchen Equipment Cleaning
Keeping your commercial kitchen and restaurant equipment clean is essential for providing a safe environment for customers. With our deep cleaning services for kitchen equipment, we can help you maintain the highest standards of kitchen cleanliness. Our powerful systems are designed to thoroughly remove dirt, grease, and grime from all types of kitchen appliances such as stoves, fryers, ovens, and grills. This will ensure that your equipment is safe from bacteria and other contaminants that can cause health issues. Plus, with our anti-microbial solutions, you can be sure that your kitchen is left in a hygienic state. Hawaii Pro Exhaust & Wash has the knowledge and experience to deliver the highest quality of service for your pressure washing needs. Call us today to get started on a cleaner and healthier kitchen.
Restaurant Kitchen Floors and Ceilings
Floors and ceilings of restaurants can quickly become dirty with the high traffic they receive. Our technicians provide full-service pressure washing for restaurant floors and ceiling tiles in Honolulu and the surrounding area. Our experienced team is knowledgeable in the proper cleaning protocols for such surfaces, ensuring that your property is restored to a pristine condition without damaging them. Plus, we also use powerful anti-microbial cleaning solutions to eliminate germs and bacteria, keeping your restaurant safe and clean.
Outdoor Pressure Washing for Food Establishments
Maintaining a clean property is essential for creating a pleasing aesthetic that will attract customers and passersby. Hawaii Pro Exhaust & Wash offers professional pressure washing services for outside surfaces in Honolulu and the surrounding area. Our experienced team knows how to safely remove dirt, grime, mildew, and other contaminants from the outside of your food establishment without damaging it. We use top-of-the-line systems that are capable of achieving excellent results quickly and effectively. Plus, our anti-microbial kitchen cleaning solvents will kill germs and bacteria, leaving your property free of contaminants.
Get Pressure Washing for Your Kitchen Today
With Hawaii Pro Exhaust & Wash, you can get the highest quality pressure washing services Oahu has available for your restaurant kitchen and other food establishments. Our experienced technicians are committed to providing top-notch service that is tailored to your specific needs. Contact us today to learn more about our complete range of cleaning solutions for restaurants and commercial kitchens in Honolulu. We look forward to helping you keep your property in a pristine condition.
https://hawaiiexhaustproandwash.com/wp-content/uploads/2023/02/hawaii-exhaust-pro-00005.jpg
768
1024
hawaiiexhaustpro
https://hawaiiexhaustproandwash.com/wp-content/uploads/2021/10/logo.png
hawaiiexhaustpro
2023-02-23 17:31:36
2023-06-20 23:46:17
Get Professional-Grade Kitchen Cleaning with Quality Oahu Pressure Washing Services